Be a part of the rebranded global fashion jewellery marketplace!
One of the industry's most international and diverse fashion jewellery and accessories sourcing events is adopting a new brand! SEASONS | Spring is the place where suppliers present their latest collections and bestsellers, make indispensable contacts, gain industry insights and inspiration, and meet buyers from all over the world!
SEASONS | Spring

–

Fashion Jewellery & Accessories Fair promises to be an enriching and exciting experience to professional buyers looking for quality and variety. Don't miss out on this opportunity to view the latest design trends for Autumn/Winter 2022-2023, hold meaningful conversations with industry experts and forge new business partnerships. 
*Registration counters will be closed 30 minutes before the fair ends
Venue
Hong Kong Convention and Exhibition Centre
Profile of Exhibits 
A glamorous range of products will be presented at the Fair.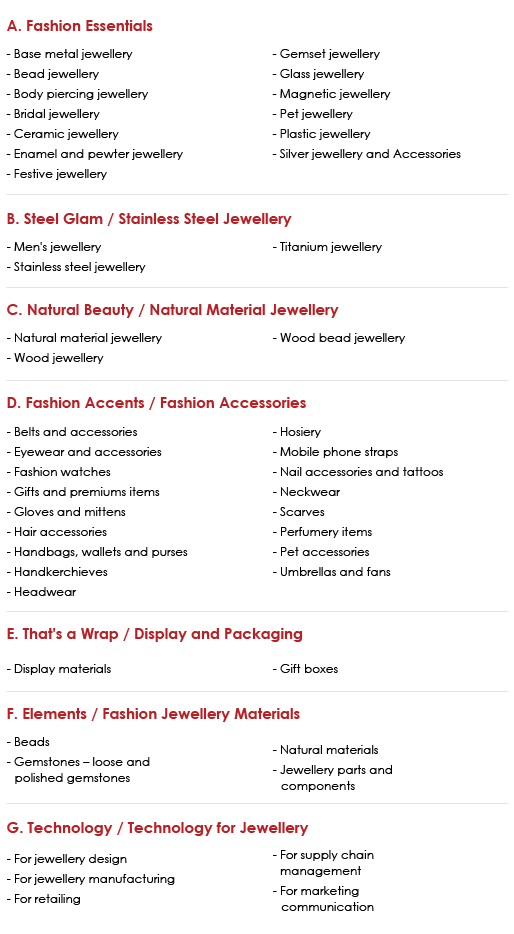 – Base metal jewellery
– Bead jewellery
– Body piercing jewellery
– Bridal jewellery
– Ceramic jewellery
– Enamel and pewter jewellery
– Festive jewellery
– Gemset jewellery
– Glass jewellery
– Magnetic jewellery
– Pet jewellery
– Plastic jewellery
– Silver jewellery and Accessories
B. Steel Glam / Stainless Steel Jewellery
– Men's jewellery
– Stainless steel jewellery
C. Natural Beauty / Natural Material Jewellery
– Natural material jewellery
– Wood jewellery
D. Fashion Accents / Fashion Accessories
– Belts and accessories
– Eyewear and accessories
– Fashion watches
– Gifts and premiums items
– Gloves and mittens
– Hair accessories
– Handbags, wallets and purses
– Handkerchieves
– Headwear
– Hosiery
– Mobile phone straps
– Nail accessories and tattoos
– Neckwear
– Scarves
– Perfumery items
– Pet accessories
– Umbrellas and fans
E. That's a Wrap / Display and Packaging
F. Elements / Fashion Jewellery Materials
– Beads
– Gemstones – loose and polished gemstones
– Natural materials
– Jewellery parts and components
G. Technology / Technology for Jewellery
– For jewellery design
– For jewellery manufacturing
– For retailing
– For supply chain management
– For marketing communication
– Base metal jewellery
– Bead jewellery
– Body piercing jewellery
– Bridal jewellery
– Ceramic jewellery
– Enamel and pewter jewellery
– Festive jewellery
– Gemset jewellery
– Glass jewellery
– Magnetic jewellery
– Pet jewellery
– Plastic jewellery
– Silver jewellery and Accessories

B. Steel Glam / Stainless Steel Jewellery
– Men's jewellery
– Stainless steel jewellery
– Titanium jewellery

C. Natural Beauty / Natural Material Jewellery
– Natural material jewellery
– Wood jewellery
– Wood bead jewellery

D. Fashion Accents / Fashion Accessories
– Belts and accessories
– Eyewear and accessories
– Fashion watches
– Gifts and premiums items
– Gloves and mittens
– Hair accessories
– Handbags, wallets and purses
– Handkerchieves
– Headwear
– Hosiery
– Mobile phone straps
– Nail accessories and tattoos
– Neckwear
– Scarves
– Perfumery items
– Pet accessories
– Umbrellas and fans
E. That's a Wrap / Display and Packaging
– Display materials
– Gift boxes

F. Elements / Fashion Jewellery Materials
– Beads
– Gemstones – loose and polished gemstones
– Natural materials
– Jewellery parts and components

G. Technology / Technology for Jewellery
– For jewellery design
– For jewellery manufacturing
– For retailing
– For supply chain management
– For marketing communication

A Truly International Marketplace 

Buyers Attending by Region
| | |
| --- | --- |
| Region | Percentage |
| Asia-Pacific (excluding Hong Kong region) | 52% |
| Europe | 17% |
| Hong Kong region | 17% |
| Middle East, Africa and Others | 6% |
| North, South & Central America | 8% |
(Statistics of the 2019 edition of SEASONS | Spring, previously known
as Asia's Fashion Jewellery & Accessories Fair – March)
Trade Buyers' Nature of Business
| | |
| --- | --- |
| Business | Percentage |
| Fashion Jewellery / Accessories Designer | 10% |
| Mail Order House/ E-Tailer / Related Institute / Association | 2% |
| Manufacturer / Supplier | 15% |
| Retailer / Buying Agent / Department / Chain Store | 29% |
| Wholesaler / Importer / Exporter | 44% |
(*The above figures are based on the answers received only from buyers who responded to our survey during the 2019 edition of the show.)
A Truly International Marketplace
Buyers Attending by Region
| Region | Percentage |
| --- | --- |
| Asia-Pacific (excluding Hong Kong region) | |
| | |
| | |
| Middle East, Africa and Others | |
| North, South & Central America | |
(Statistics of the 2019 edition of SEASONS | Spring, previously known
as Asia's Fashion Jewellery & Accessories Fair – March)
Trade Buyers' Nature of Business
| Business | Percentage |
| --- | --- |
| Fashion Jewellery / Accessories Designer | |
| Mail Order House/ E-Tailer / Related Institute / Association | |
| | |
| Retailer / Buying Agent / Department / Chain Store | |
| Wholesaler / Importer / Exporter | |
(*The above figures are based on the answers received only from buyers who responded to our survey during the 2019 edition of the show.)